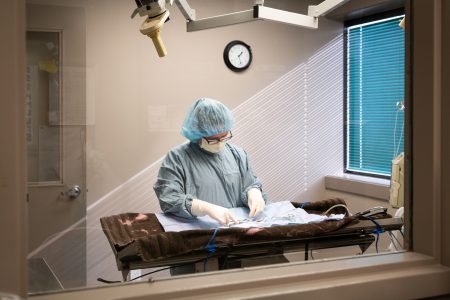 Lloydminster Animal Hospital is happy to provide a wide array of elective and non-elective surgical services. Elective procedures include spay and neuter for dogs, cats, rabbits, and a few exotic species, as well as dental procedures and lump removals. We are also able to provide for emergency or non-elective procedures such as exploratory surgery, Caesarean sections, and lacerations to name a few.
We also provide specialized orthopedic surgery for emergency situations like fractured bones as well as for elective procedures such as cruciate ligament injuries and luxating patella surgery. Fractures can be repaired with surgical procedures such as bone plating, interlocking nails or external fixators or sometimes with splinting or casting.
All surgical procedures are performed under strict aseptic conditions in a dedicated surgery suite with anesthesia and pain control tailored to the requirements of the patient. Patients are monitored closely by a dedicated technologist along with electronic monitoring devices and we use multiple modes of warming for patient comfort both during and after surgery. Patients are supported with intravenous fluids during surgery and post operatively as needed.
We also maintain relationships with referral practices to handle procedures that may be beyond the scope of what we can provide. We can help with deciding if a referral is in the best interest of the patient.
Patient care and comfort are of paramount importance to us to ensure a successful outcome and lessen complications.